Victoria Benheim founded I-lunch in 2017, a digital company restaurant. On April 4, I-lunch changed its name, colors and logo to Fraîche Cancan, but remains the same canteen company committed to zero waste and healthy food with balanced and gourmet recipes.
What is an your journey and where comes to you this entrepreneurial spirit revives you?
Victoria Benheim "I think I've always wantedimprove the lives of others. When I was studying and didn't know it yet, a friend told me that I had an entrepreneurial profile. Today it is clear that he was right, first with my first company Liva and now with Fraîche Cancan. My path, despite the difficult moments, especially with the end of Liva, brought me a lot and allowed me to take a step back on many points related to entrepreneurship. Failure may eventually lead us to an exciting new adventure. I have already told Forbes about my first adventures as a business manager. Many entrepreneurs contacted me after this first article. I am glad that today I can send a new message, to say that after failure there can be success, and this is what characterizes my story. I want to improve the life of the French. With Liva, I wanted to help people and maybe save their lives, that's what drives me, and that's the way it was. We received feedback from hospitalized people for whom Liva made it easy and quick to transfer their medical record, and this is my biggest reward as an entrepreneur. The same goes for the Frisch Cancan. Our guests are very happy, we feed them and we know what we put on their plates, taking care of them. This is what gave me the strength and desire to start from the start. »
What is fresh cancan ?
WB : " Fraîche Cancan is, above all, desire, it is about improving the quality of life at work by providing companies with good food. Equality and accessibility were important to me. Fraîche Cancan is an online ordering platform, but not only. Employee order in line their food, then we deliver them to their business. What makes Fraîche Cancan different from other food technologies that fall into categories B to C is that in order to access this platform, the company must sign a contract with us. For example, a company may be involved in food delivery, which means that for an employee, a meal at Fraîche Cancan costs between 2.5 and 5 euros for an appetizer, main course and dessert menu. We have developed several proposals. Click delivery: I order online and I am delivered at the appointed time in my company to eat with all my colleagues and enjoy my lunch break in a friendly atmosphere. Connected refrigerator: I go down to my dining room, identify myself and take food. La Fraîche' Café: A take-out counter where there is a Fraîche Cancan employee called Gourmet who will provide services, from breakfast to work after work, to make the food service humane. And finally Fraîche catering: we can take care of all company events: breakfast, food tray, cocktail…"
I have dinner is an became fresh cancan, What for this change title ?
WB : "E-lunch was very good, but the name didn't do enough to reveal what we really do, which is good, healthy, responsible and homemade. I-lunch refers to the idea of ​​connected food. We are a food technician, but the word "food" was no less important. The i-lunch was too techy and lacked food. Also, I wanted companies that don't have Fraîche Cancan to want to try it. This change in identity allows us to more accurately reflect our values. With this new name, we wanted to bring something more fun and at the same time to transform the sector of collective food, which does not always have a good reputation in the minds of the French. The word "dining room" can sometimes have a negative connotation, so we wanted to reverse the trend with our young, dynamic and vibrant side. The idea is to revolutionize the canteen industry. It's not a new company, it's a new identity, more in line with who we are. Finally, the translation of lunch refers to lunch, but our offer catalog covers many other gourmet moments. So it's time to write a new page in our history, so I-lunch has given way to Fraîche Cancan. »
What is an your business model and what–which distinguishes you?
WB : "We pioneered everything with I-lunch. We were the first in the history of food technology in France to do everything from B to B. In 2017 there were none, only B to C. We were also the first to achieve zero waste and the first to offer a new generation of dining. Our pioneering and innovative side sets us apart. We work 100% from B to B, we do not have a B to C model. Regarding our economic model, we work for all our clients with contracts to implement our solutions according to company needs and wages. As for end consumers, the employees we call our guests, in addition to good homemade food, receive a subsidy from the employer, which allows them to eat healthy food without requiring large financial costs. In short, it's a subscription model fully customized according to the goals, needs and workforce of the company. »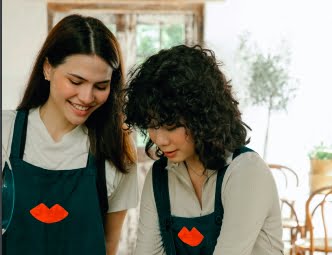 Fresh Maybe maybe is an a company that became profitable very early ?
WB : "It took us a year and a half to find our business model, but our 100% B to B offering allowed us to reach operating profit fairly quickly. As evidence, we see triple-digit growth every year. After 5 years of existence Fraîche Cancan is a sustainable company and to support our development nWe reinvest a lot. »
What is an the main strength of Fraîche Cancan?
WB : " Taste. The product we sell is excellent and high quality. Since I created I-lunch five years ago, I eat there every day and I never get bored. There is extraordinary creativity, we create over 200 recipes each year With our lab we are very flexible on this part We know what we put into it Nutrient evaluation allows us to see the nutritional information when we create a recipe Last year we realized that 90% of our meals were A and B on a nutritional score, so they end up being as tasty as they are healthy.In addition to the nutritional balance, there is the quality of the ingredients.We prefer to put in fewer ingredients, but be sure of what we put in, rather than use processed foods. Fraîche Cancan is better than shopping!"
AT more be Good behind in health, Fresh Maybe maybe is an a dining room responsible. What is an your plus great asset ?
WB : "Zero Waste Aspect. We implemented it in 2019. We signed Charter of Barbara Pompili. I-lunch was the only company out of 34 signatories to be waste-free prior to the signing of the charter. Today we are a company that knows how to deliver food with minimal waste. Since our inception, we have wanted to take care of the health of employees, but if it were to harm the planet, this would not be possible, which is why we ship in glass containers to put an end to single packaging. We advocate reuse. We are also working on an environmental rating. In the choice of environmental responsibility, there is a container and a content. »
how Are you positioning yourself relative to your competitors?
WB : "There are a lot of new players due to the health crisis. We were there before the crisis, since 2017, and this is also our strength. We have weathered this health crisis while growing. The business catering sector attracts many young entrepreneurs, but our positioning and our resilience allow us to approach the post-crisis period with optimism."
You have meet from difficulties in so much that women entrepreneur ?
WB : "There are difficulties when you get down to business, this is a reality. However, they are not insurmountable. You have to be persistent, persistence is the key. I didn't think being a female entrepreneur would be a problem, but the more we got into the fundraising and growth stages, more I realized that some things can bother farther when a woman is at the head of the company. This is not a competency issue, but rather long-term issues such as maternity leave. However, there are more and more successful women today, it's all about organization! These questions are not specific to entrepreneurship, they point to the path that remains to be taken in favor of equality. »
Where you come your ideas and which advice would you give to entrepreneurs?
WB : "Inspiration is all around us, we just need to open our eyes to take advantage of entrepreneurial opportunities. It's from outside that comes ideas, you must be careful. I often say that an entrepreneur is someone who jumps off a cliff and finds a way to build a plane downhill. Strength is revealed when falling. Even if the jumps can be scary, it is in the jump that we reveal ourselves and see what our project is worth. It's better to jump in and see what you're capable of, and if you fail, it doesn't matter because it's from failure that you learn the most. No matter what happens, we always come out stronger. »
<< Читайте также: ВСТРЕЧА(И) | Марианна Джоли и Ана-Мария Мегелеа-Табет, соучредители Corneille, забавного приложения, которое научит вас читать! >>>