Popeyes Louisiana Kitchen, the number two fast food restaurant specializing in fried chicken, will appear on French soil from next year! It was the Napaqaro group that made this acquisition to compete with market leader KFC.
Fried chicken brand Popeyes is coming to France! Credit: Popeyes Louisiana Kitchen
see also
Transformation time for Buffalo Grill is not over yet! The franchise's restaurants have undergone a change for the first time: goodbye Wild West vibe, hello American barbecue vibe. Then a name change: The Buffalo Grill group now becomes the Napaqaro (meaning "checkered tablecloth") group, which brings together the Buffalo Grill and Courtepaille brands following a takeover in 2020. Napaqaro also announced a future acquisition of an American fast food restaurant. network to install it in France and now it's official!
So Napaqaro, in collaboration with Restaurant Brands International (RBI, one of the largest fast food companies in the world), will be relaunching the Popeyes Louisiana Kitchen franchise in France very soon! Group delighted with acquisition of Master Franchise Popeyes and counts"open several hundred restaurants over the next ten years". With the opening of the first address in Paris in the second half of 2022, the goal is to "five locations in Île-de-France at the end of 2022"then continue opening en masse at the speed of"50 a year to build a chain of restaurants that will very quickly number in the hundreds in France.said group director Jocelyn Olive.
Return of Popeye in France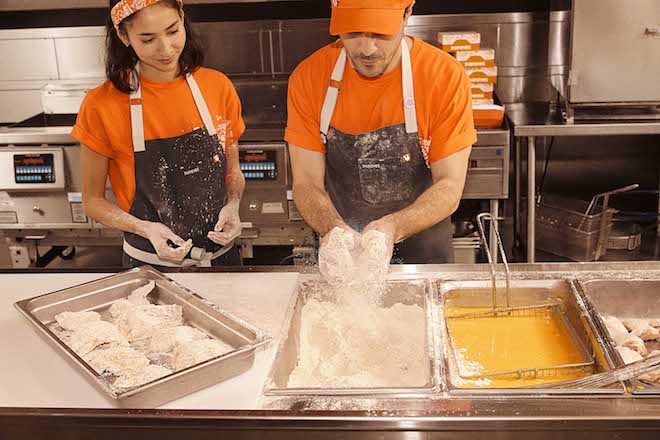 Popeyes Louisiana Kitchen will open several hundred restaurants in France very quickly. Credit: Popeyes Louisiana Kitchen
If the name of this fried chicken restaurant chain means something to you, that's fine. In 2019, Americans even lined up at the car dealership for hours to try the latest Popeyes burger recipe! Founded in 1972 in New Orleans, this fast food franchise attempted to open its first location in France in 2018, opening three restaurants in Toulouse and Montpellier, but unfortunately without success.
As such, all fried chicken lovers are eagerly awaiting Napaqaro's takeover of Popeyes Louisiana Kitchen's "master franchise" to compete with the specialty's leader, KFC. Thus, thanks to this "family and popular" brand, we can enjoy many gourmet recipes with chicken "always fresh and 100% French, in fillet, thighs or wings". Everything will be cooked and "breaded by hand in French flour and then fried by chefs, not industrially." As for the price, the menu will be "probably between 6 and 9 euros".
Popeyes branded fried chicken is back
Soon, discover Popeye's Chicken Sandwich, an ultra-gourmet recipe! Credit: Popeyes Louisiana Kitchen
This time is definitely correct. This specialty, in particular represented by KFC, currently the market leader, is widely discussed, making fried chicken sandwiches modern. And with the Popeye recipe, we also run the risk of succumbing to it very quickly. Already established in several Western European countries (Switzerland, UK and Spain), Popeyes and its famous "chicken sandwich" will captivate your taste buds. Based on delicious "chicken marinated for 12 hours then cooked with homemade spice mix" and other exquisite and authentic recipes, the success of the franchise should be in this.
"We are very proud to partner with Restaurant Brands International to launch Popeyes in France. This new partnership confirms Napaqaro's commitment to building the future of food service by offering our customers and families a unique experience.Jocelyn Olive said. So you can enjoy Popeyes Louisiana Kitchen Grilled Chicken Burgers from the second half of 2022! We don't know about you, but we are already salivating!