Have you decided to take care of yourself in order to lose those extra pounds gained over the year? Follow our weight loss menu to lose weight and get leaner without limiting yourself!
Fast diets don't always work. The most important thing in the weight loss menu is a balanced diet. Bet on diet and healthy recipes for fast results. The goal is not to spend too much time in the kitchen preparing food, so you should bet on quick recipes! In addition, you should enjoy what you eat.
see also
Prepare foods you love to eat every day, for example by changing the cooking method. Certain types of cooking should be preferred so that it does not turn out too greasy, for example, steaming is ideal for losing weight and maintaining a figure. Without further ado, the editors offer you a weekly weight loss menu to lose weight and improve your figure without straining too much!
Monday menu for weight loss with fish
Dish for weight loss with fish and green beans. 1 credit
Balanced breakfast:
Tea or coffee (no sugar, aspartame is allowed).
50 g whole grain bread.
Light jam of your choice.
1 natural yogurt 0%
Apple.
To have lunch: Fish papillota for weight loss
Preheat oven to 200°C.
Finely peel the onion and chop the mushrooms.
Cut out two large sheets of aluminum foil and fold them in half.
Lay the onions on the aluminum foil, then the mushrooms. Add salt and pepper.
Slice the white fish, season with salt and pepper, then place the pieces in aluminum foil.
For the sauce, add lemon juice and a little olive oil.
Bake the papillote for 30 minutes.
Sample :
100 g 0% cottage cheese with maple syrup.
Tea (optional)
Dinner: Vegetable soup for weight loss
Cut a tomato, two carrots and an onion into rings. Then cut the cabbage into slices. Place the vegetables in a saucepan.
Then add three sprigs of parsley and a bunch of celery.
Salt, pepper and a teaspoon of curry powder.
Cover the pot with water and bring to a boil.
Stir while boiling for 10 minutes.
Reduce heat and simmer soup until vegetables are tender.
Tuesday menu for weight loss with salad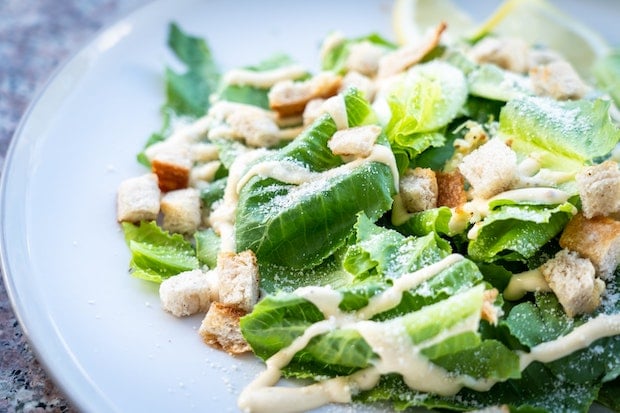 Slimming salad for weight loss. 1 credit
Breakfast :

Tea or coffee with milk.
Whole grain bread + light cheese
Squeezed orange juice
To have lunch: salad for weight loss
Boil water in a saucepan and put the egg in it. After 10 minutes of boiling, remove the egg from the water.
Wash the lettuce leaves and cut the tomatoes into slices.
Cut the chicken fillet into small cubes and fry in a pan, sprinkled with olive oil.
Then mix lettuce, light cheese, tomato and egg, cut into pieces in a salad bowl.
To spice up your slimming salad, drizzle it with low-salt or low-sugar soy sauce.
Sample :
0% white cheese and sliced ​​seasonal fruit.
Dinner: Turkey fillet

Fry a slice of turkey with a drop of olive oil.
Lightly salt and pepper to taste!
Add green lettuce leaves to the turkey slice.
To finish the meal, kiwi.
Wednesday vegetarian menu for weight loss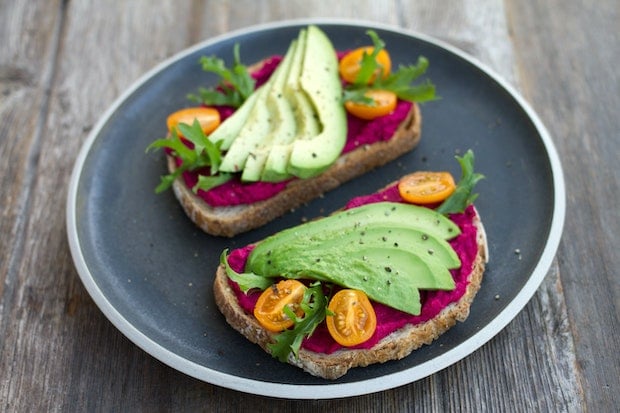 Avocado and eggplant toasts for your weight loss menu. 1 credit

Breakfast :
Muesli House
Curd 0%
Tea or coffee
To have lunch: avocado toast
Slice the avocado.
Toast the whole grain bread on both sides in a skillet, then place the avocado on top of the bread.
Salt pepper. For those who can, shredded cheddar can be added.
Sample :
Smoothie with cucumber, coriander and wheat juice.
Dinner: Salad for weight loss with chickpeas:
Drain the water from the chickpeas, rinse and peel the cucumber and tomato. Cut them up. Then chop the onion.
Cut the feta into cubes and chop the herbs.
Mix the ingredients in a bowl, salt and pepper.
Thursday pamper yourself with this weight loss menu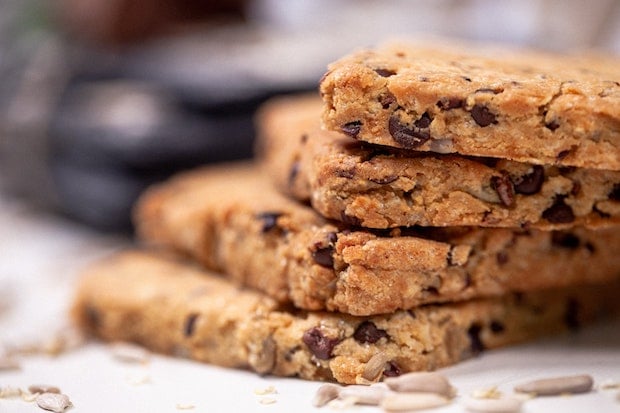 Cookies for weight loss. 1 credit

Breakfast : Grilled Chicken Thin Sandwich
Fry the meat in a pan, lightly pepper and salt.
Spread hummus on whole grain bread.
Spread foods in layers on whole grain bread.
Sample :
Mash bananas with a crusher, add oatmeal and chocolate chips.
Form small slides on the baking sheet.
Bake for 15 minutes at 180°C.
Dinner: Lentils with salmon
In a bowl, mix lentils with diced apples and bacon. Also add diced carrots.
Pour the dish with dietary dressing.
Friday exotic menu for weight loss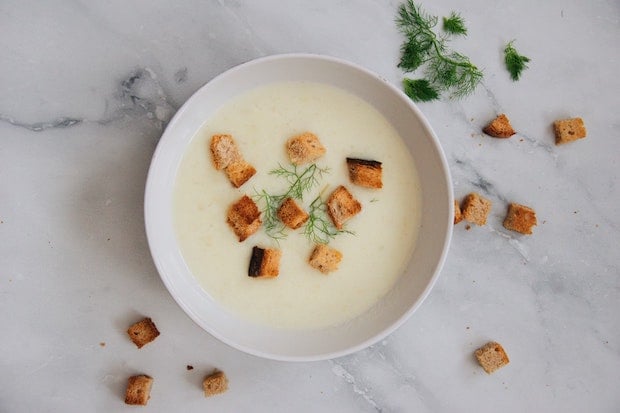 Slimming soup for weight loss. 1 credit

Breakfast :
Tea (or coffee) without sugar.
Fruit of your choice.
0% white yogurt.
To have lunch: Shrimps with coconut milk and lime
While the rice is cooking, chop the onion and place it in a saucepan, drizzling with olive oil.
Add curry, ginger and lime. Then add coconut milk, salt and pepper.
Take the rice out of the water, drain the water. Put everything in the wok and stir.
Sample :
0% cottage cheese and agave syrup.
Dinner: Carrot soup for lunch:
Boil the carrot slices in a saucepan, then place them in a blender.
Add water and ginger, then stir.
Then add coconut milk, stir one last time.
Saturday: sweet and salty menu for weight loss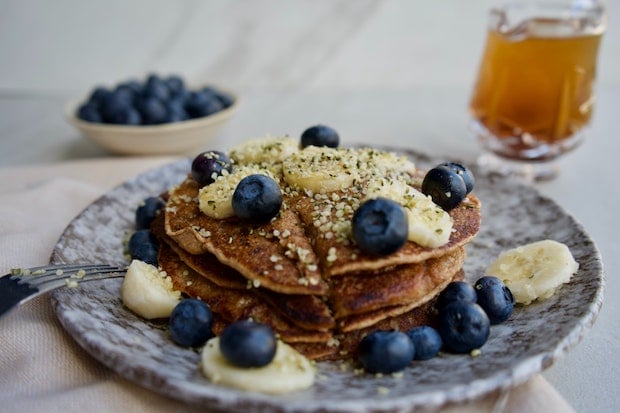 Vegan and healthy pancakes. 1 credit
Lunch: semolina porridge
Roast the chickpeas and cook the egg.
Put semolina in a bowl and add ras el hanout seasoning, a spoonful of olive oil and pour boiling water over it.
Put the salad on the bottom of the bowl, add the chopped cucumber, thin strips of carrots.
Add chickpeas and a quarter of an egg.
Taste: Pvegan cake
Pour flour into a bowl, add sugar, salt, almond milk and mix everything.
Add sunflower oil, baking soda and lemon juice. Using a ladle, place the batter in a very hot skillet.
Turn the pancakes over once they are well browned.
Add blueberries and maple syrup.
Dinner: zucchini cake
Wash and cut the zucchini into small cubes. Then chop the olives, sun-dried tomatoes and feta into pieces.
Preheat oven to 180°C.
Place the eggs, blanc and a tablespoon of olive oil in a bowl. Mix flour, baking powder, salt (lightly) and pepper.
Add vegetables to the batter and mix gently. Pour the mixture into the mold and place in the oven for 30 minutes.
Sunday steam menu for weight loss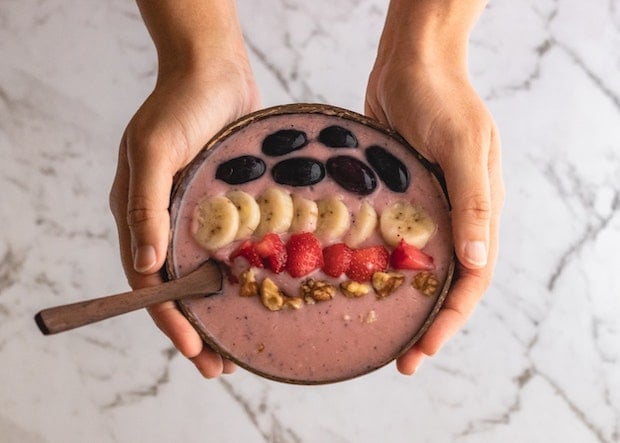 Dessert for weight loss with fruits, cottage cheese and nuts. 1 credit

Breakfast :
Tea or coffee (no sugar)
Yogurt 0% and fruits of your choice.
Lunch: cod with boiled lemon.
Lay the cod fillets on parchment paper and drizzle with a tablespoon of olive oil.
Add lemon slices, half a clove of garlic and ginger.
Cook papillots in a pressure cooker for 15 minutes.
Sample :
Smoothie, banana, orange, peach, grapefruit and three nuts. Also serve as a dessert. Target ? Stock up on vitamins
Dinner: eggplant caviar on toast.
While the eggplant is cooking in the oven at 200°C, cut the avocado half into slices.
When the eggplants are ready, mash them, add garlic and olive oil.
Mix with lemon juice and cumin, salt and pepper.
On a toast of whole grain bread, spread with eggplant caviar, put avocado and fried and peeled shrimp.