The JUICE EXPERT 3 Juicer is a 3-in-1 juicer, juicer and citrus juicer to coldly extract the best from fruits and vegetables. Juices contain more vitamins, minerals, antioxidants and essential nutrients!
A juicer is a device designed to extract juice from fruits, leaves and vegetables. You do not need to pre-peel fruits or vegetables, except those with thick or inedible skins (pineapple, kiwi, etc.). Thus, you benefit from the vitamins and minerals contained in their peel, because very often it is the peel that contains the best of fruits or vegetables.
Juice Expert is a 3-in-1 device, thanks to the additional press extractor, a new patented invention by Magimix, the pressing is slow and cold on fruits and vegetables, soft or cooked, as well as on almonds, walnuts or hazelnuts. for making creamy milk, juices and smoothies with virtually no pulp. Then there is the Juice Filtration Centrifuge, which allows you to extract the juice from hard vegetables and fruits or green vegetables.
The juice filter is patented by Magimix II, it allows you to juice instantly! Finally, it is equipped with a citrus press that attaches to the tank and allows you to press citrus fruits, has a small cone for lemons and a large cone for oranges and grapefruits. Thanks to the pulp filter (Pulpe System) you can choose juice with or without pulp.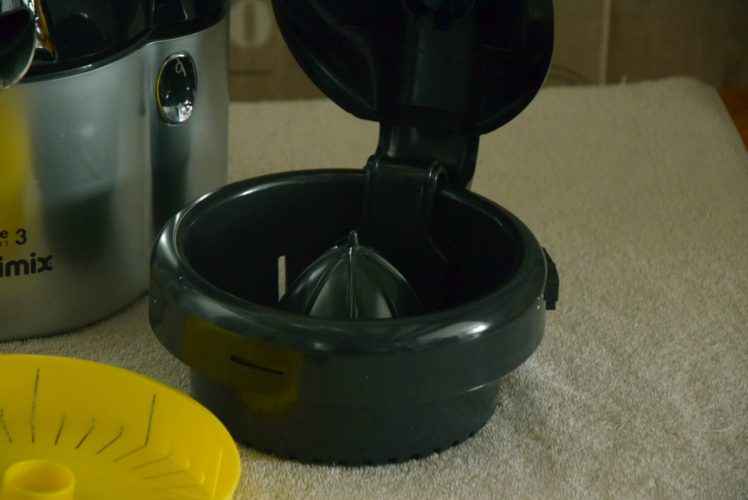 The extra press (red accessory) allows you to extract up to 3.5 kg of strawberries, 3 kg of tomatoes, 1 kg of pineapples, etc. without emptying the basket, and up to 2 kg for the juicer. celery, 1.5 kg apples, 600 g spinach, etc. Vegetables are easy to slide without finely chopping, for example, apples will be cut in half, and whole carrots will lay in the chute.
In terms of energy, the 400W motor adapts according to the hardness of the vegetable or fruit to be pressed. Therefore, it consumes very little electricity and is completely silent. The spout allows you to serve directly from the glass, which is very convenient for making morning fruit juice or an afternoon snack.
A detailed book with over 100 recipes and a free app lets you make delicious juices, smoothies or milkshakes by highlighting the benefits of each vegetable used. This book is a goldmine, but you can also get creative and invent recipes just for yourself!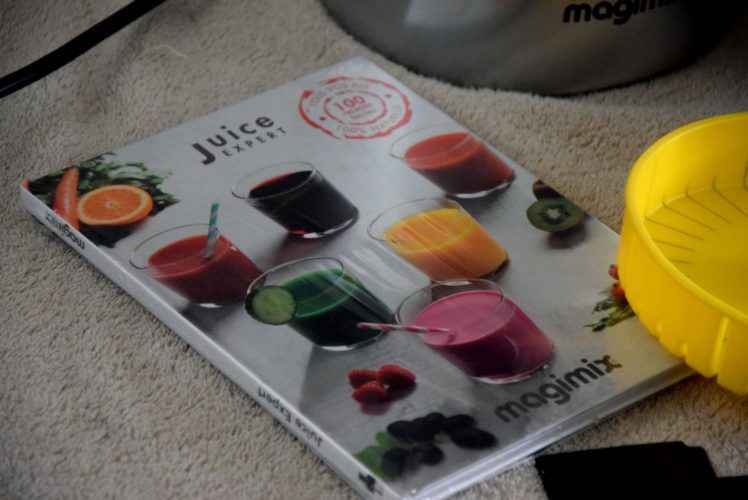 All elements (with the exception of the station) can be washed in the dishwasher after passing them through the cleaning spatula and rinsing so that fruit or vegetable pulp does not settle on the dishes already in the dishwasher. It is equipped with double protection: first the station snaps in and then the lid to start the Juice Expert 3, the electric cord is stored at the bottom, and it is equipped with non-slip feet that ensure it does not move at all during operation. 'use.
Our Culinary Achievements:
We made three different recipes in pictures, but also many others in private 🙂 We decided to offer you tomato juice, almond milk and orange juice to show you that it is quite possible to create these three drinks with the same device.
Tomato juice that we finish with celery salt or Tabasco! Just wash two tomatoes (for one drink), cut them in half and press with an additional press. Squeezing out a small amount is great because you need to add as many tomatoes as you need glass. Alternatively, you can make a sauce from the reconstituted pulp by garnishing it with olive oil and garlic… Tasty with a pasta dish, nothing is wasted.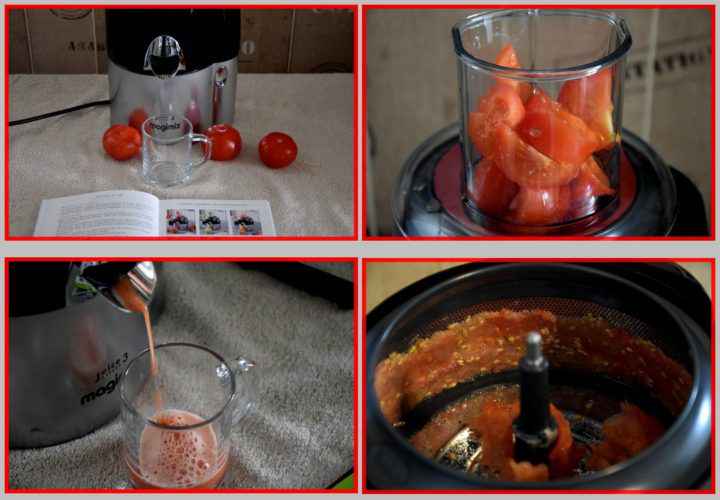 The second test was carried out on whole almonds. Plant milk is a cow milk replacement milk, it is much more digestible and very complete in terms of calorie intake, nutrients, fatty acids and other micronutrients, it is a very pleasant energy drink to consume, but as stated earlier, a liter of almond milk costs an average of 2.50 € and needs to be consumed quickly. Here with Juice Expert we have the option to make just one glass if we want to. The cost of a liter of homemade almond drink should be about 1 euro.
You will need 100 grams of dry almonds, which you will need to soak overnight, and 500 ml of water. Just add almonds as you go and add water to it. As before, the reconstituted almond pulp made a delicious little almond shortbread!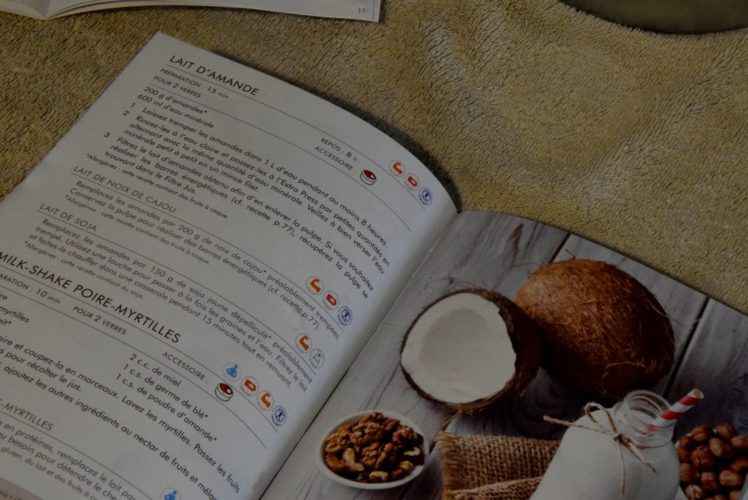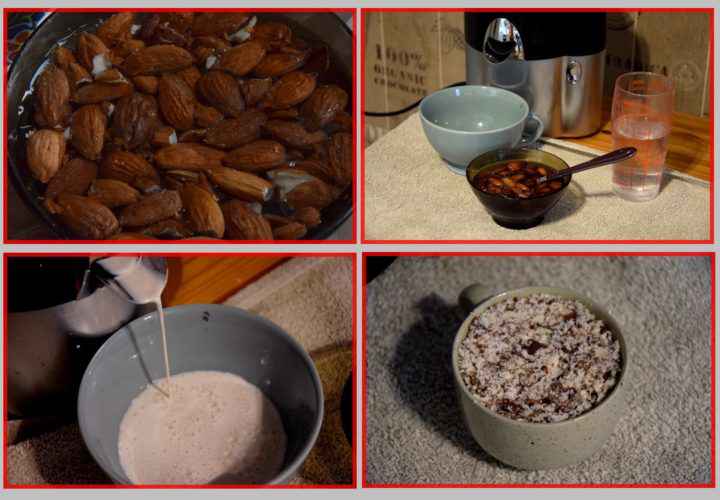 This is our almond milk. fall on something, pure enjoyment, the most exhausting thing is to break the almonds and succeed in cooking 100 grams without emptying the bowl on the go !!! We've got soy, oatmeal, or hazelnut trials planned for when the season hits!
Finally, we made classic orange juice using the citrus press that comes with Juice Expert 3. Nothing revolutionary on this side, an efficient citrus press that squeezes all the juice out of citrus fruits. The innovation lies in the grinder, which you choose, whether to install it or not, whether you want to get juice without pulp or with it. The seeds stay on the top floor… Very handy for morning orange juice!

Our opinion on Juice Expert 3:
Find a list of Magimix stores where Juice Expert is available for around €290 (sometimes with cooking classes). It's an investment, but it pays off quickly if, like us, you're a fan of original juices, especially in small quantities. When a liter of juice is not necessarily over and its expiration date has expired, squeezing with a glass means there is no more wastage or waste. The fight against food waste is a constant struggle, part of which is squeezing your own fruits. By the way, think about it if you use the Too Good To Go app, because there are often baskets of fruits and vegetables to collect and make juice out of them – a great solution not to throw them away and it's also tasty and healthy!